Our five nights at Guilin Ming Garden were great as well! It is certainly our favorite place in China. The apartment is remodeled, extremely clean and has a great view; having internet access is a nice touch and there is plenty of room for our entire family. After a long day of fun, it was relaxing to come home to delicious home cooked meals prepared by our nanny Mrs Huang.She made us feel right at home with her traditional Cantonese home cooked dinners: her normal dinner consist of soup, two meat dishes and two vegetable dishes; very much like the meals our Cantonese parents made for us when we were younger and the meals had brought back fond memories.
-Helen Lee

Spring Break China Heritage Trips
March 9, 16 & 23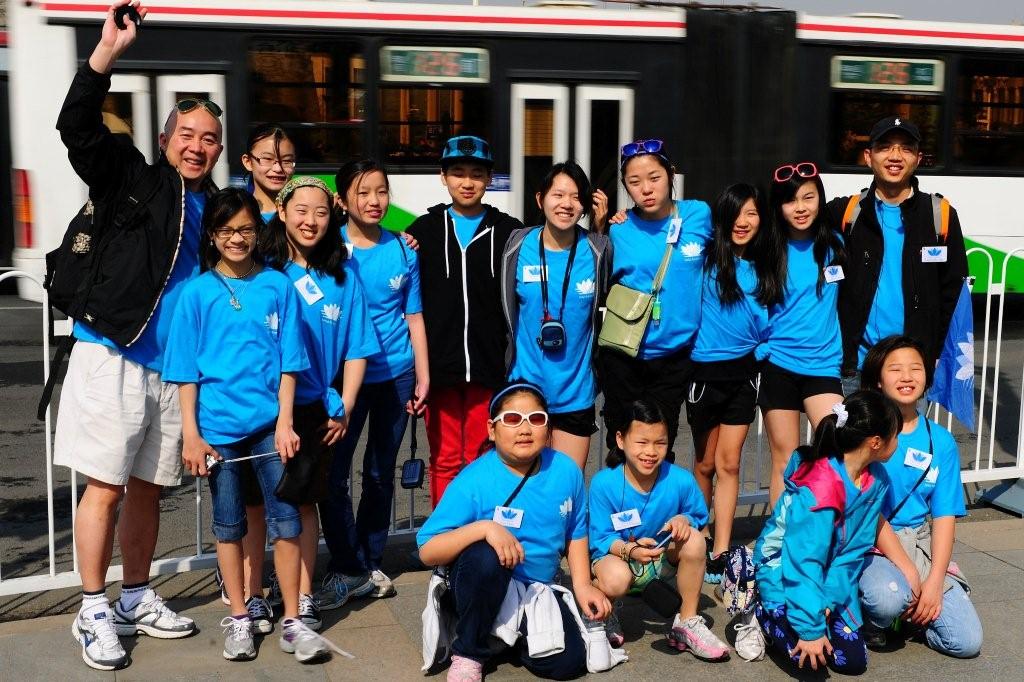 Heritage travel is too important to sweat the details when, as a parent have financial, emotional and practical preparations to handle for such a pivotal journey. Once you pick your preferred schedule, Lotus Travel can handle the rest!! We'll guide you through the travel prep, visa and other details and you can relax and enjoy the moments with your family. The standard first-time return itinerary includes time in Beijing, Xian, a school visit and other "slice of life" moments along the way, including visit to panda "mecca" in Chengdu!
Your family gets to climb the Great Wall; visit other iconic spots in Beijing; take in the ancient wonders of Xian; enjoy the family "downtime" and the hands-on activities throughout such as a home stay; visiting a hutong and having lunch; making dumplings and much more! Join a group and let your kids have the time of their life exploring the key culture spots; then have private family time as you explore your child's hometown area and choose your gateway departure city. This trip offers the best of everything – and you can relax and enjoy your time as a family with the most experienced name in travel. You can request an initial planning phone consultation by contacting iris@lotustours.net or check our home page for the upcoming webinar on first time return trips. We can help you build your fund through a Trip Savings Plan (TSP) also, so there is no need to wait for making those initial plans!

Tour Overview
Tour Code: LY-HA19-03
Trip Duration: 10 days/8 nights
Beijing, Xian, Chengdu, & customized departure city of your choice
Departure Dates:
March 9th 2019, March 16th 2019, March 23rd 2019
Day 1 : Saturday North America/Beijing
Leave your home city for Beijing today.
Day 2 : Sunday Beijing
Arrive at the Beijing International Airport. Your private English-speaking guide and driver will take you to your hotel. Soak in your child's birth country while you adjust to your new time zone and surroundings.
Day 3 : Monday Beijing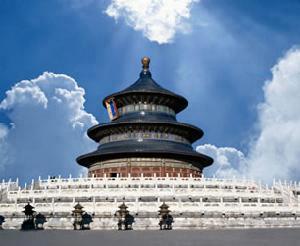 This morning you will visit China's largest temple and altar-the Temple of Heaven, which is often depicted as the most recognizable symbol of China. After a bowl of fresh hot noodles for lunch, you will visit the Summer Palace in afternoon.
Day 4 : Tuesday Beijing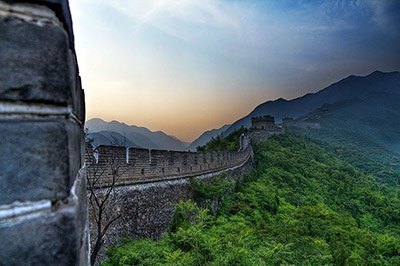 Begin your day with a tour at the Great Wall. Constructed more than 2,000 years ago by China's first emperor, the ancient wall is 6,350 km or about 4,000 miles in length. Visit the Peking Duck Restaurant and see how the professional chef roasts Peking duck - Beijing's most famous dish, is traditionally served with Mandarin pancakes, and green onions for brushing on the hoisin sauce.
Enjoy your Peking Duck dinner and relax while you absorb the sights, sounds and surroundings of your child's birth country.
Day 5 : Wednesday Beijing/Xian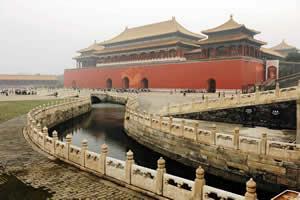 Begin your day with a tour at the Forbidden City. Listed as a world heritage site in 1987, the Forbidden City contains the largest group of intact palace structures in the world. The palace is 720,000 square meters in size and contains 9,999 rooms, numerous pavilions, gardens and courtyards. Then visit the Tiananmen Square. Noted as the largest city square in the world, the square was initially designed for political rallies and important gala events. Today the square is flanked by the Forbidden City in the north, the Great Hall of the People in the west, Mao TseTung's Mausoleum in the south and the Museum of Chinese Revolution and the Museum of Chinese History in the east. After a special homemade lunch at a local family residence in the Hutong Lane area, you will explore the fascinating Hutong neighborhoods. Beijing's oldest Hutongs (alleys) were constructed during the Yuan, Ming and Qing dynasties. Your tour will take you through some of the best-preserved Hutong neighborhoods that represents the history, culture and lifestyle of old Beijing.
Early this evening, get onboard a luxury express train for your overnight journey to Xian.
Beijing/Xian Soft Sleeper Train Z19 (9:24P/8:25A + 1 day) (Your tour guide has tickets)
Day 6 :Thursday Xian
Arrive early this morning in China's ancient capital city of Xian. Known as ChangAn in ancient times, Xian was the capital city of China for 1,062 years (13 dynasties and 73 different emperors).
Travel on top of the 950-year-old city wall on a bike; be sure to enjoy the panoramic view. Built during the early Ming Dynasty with a core of mud and covered by three layers of bricks. Xian's city wall is the only city wall that remains intact in China today. After Chinese hot pot lunch, you will visit the Tangbo Art Museum in afternoon and also get to try your hand at some artistic expression yourself!
Day 7 : Friday Xian/Hu County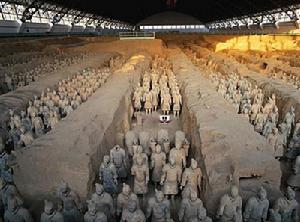 Embark on an amazing historical and cultural adventure today beginning with the exploration of the Terracotta Warriors & Horses Museum, a UNESCO world heritage site since 1987. Created 2,000 years ago to guard the tomb of China's first Emperor QinShiHuang, time and the elements have gradually worn away the vibrant painted details from the soldiers and horses to reveal their original earthy terracotta color. Have a "hands-on" experience as you learn o make terracotta warriors in a local craft factory. Continue your trip to Hu County, which is famous worldwide for its peasant farmer artists who create vibrantly colored peasant paintings and intricate paper cutouts. Visit the local elementary school and have a 45-minutes class with the local children (Please remember to bring some gifts to the children for the school visit). It will be a highlight for sure! Tonight you will have the rare opportunity to stay at the Donghan Village at a local farmer's home; learn to make JiaoZi (traditional Chinese dumplings), enjoy a home-made JiaoZi dinner there. After dinner, tonight you will have a dancing party with local farmers at the village grain-sunning ground.
Day 8 : Saturday Hu County/Xian/Chengdu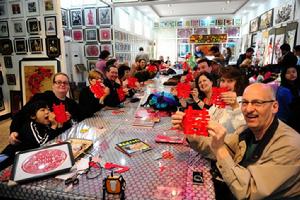 Enjoy a rare glimpse into China's countryside living through a visit to the workshops and galleries where you can learn about the artist's special techniques, purchase artwork or paper cutouts and even try your hand at creating your own magnificent work of art. Visit the farmer's old village and you will be surprised by the huge difference between the old village and new village where you are staying.
You will be transferred to the Xian Bei (North) Train Station for the trip to Chengdu by bullet train.
Xian/Chengdu Bullet Train D1937(2:00P/5:43P) (Your local guide has tickets)
Arrive at the Chengdu Dong (East) Train Station. Please meet your local guide and driver at the station exit for transfer to the hotel.
Day 9 : Sunday Chengdu Tibet Hotel, Chengdu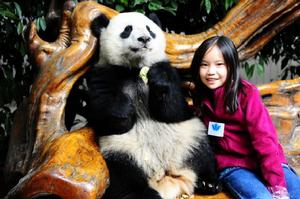 Go on an extraordinary journey to the Panda Breeding Research Base this morning. After lunch, visit the Chengdu old town – JingLi Street, which combines the culture of the Three Kingdoms Period with the folk customs of Sichuan. The tea-houses, stores and hotels are modeled on the architectural style of a traditional old town in western Sichuan Province from the Qing (1644-1911) Dynasty. As you stroll down the narrow streets, you will find local artisan Shu Embroidery, lacquer products, calligraphy work and other local handicrafts. Visiting stores on this street, one feels like you have catapulted back in time and you will appreciate the relaxing and local unique flavor of this ancient street.
Day 10 : Monday Chengdu/ Orphanage City or other destination cities
Today you will be transferred to either airport or train station, or bus station for traveling to the next destination city.
Please give us your traveling information including orphanage city and your preferred international gateway city (Guangzhou, Shanghai, Hong Kong, Beijing, etc.). We will create remainder of the trip as a private family tour. You may choose timing for your visit to the orphanage, your child's hometown city visits and more. This customized portion of the trip is determined according to your specifications and is not included in the base tour cost.
REMARKS:
B = Breakfast L = Chinese Lunch D = Chinese Dinner
CA= Air China CZ=China Southern Airline MU=China Eastern Airlines
Tour Prices:
Traveling Dates

March 9th 2019, March 16th 2019, March 23rd 2019

Family Size

2 – 5 People

6 – 9 People

Prices/per person

Adult

Child

Adult

Child

$1,670.00

$1,480.00

$1,470.00

$1,370.00
| | | | | | | | |
| --- | --- | --- | --- | --- | --- | --- | --- |
| Hotel | Indoor Pool | Outdoor Pool | Gym | Safe Box | Refrigerator | Hair Dryer | Kitchen |
| Novotel Peace Hotel | √ | | √ | √ | √ | √ | |
| Holiday Inn Xian Big Goose Pagoda | √ | | √ | √ | √ | √ | |
| Xian Farmer's House | | | | | √ | | √ |
| Tibet Hotel, Chengdu | | | √ | √ | √ | √ | |
Inclusions
Soft sleeper train ticket of Beijing/Xian;
Airfare of Xian/Chengdu;
Airport/hotel/airport (or train station) transfer as listed on itinerary.
All listed sightseeing and tour programs with private English-speaking tour guide and private van or bus with driver.
Hotels and meals as stipulated on itinerary.
All prices are quoted in US Dollars and are subject to change without notice. Please check at time of booking.
All prices are quoted per person, based on two people sharing a room (double occupancy). Single supplement applies for single travelers.
Exclusions
N. America/China/N. America int'l airfare. Please contact us for discount international airfare starting from your city.

Passport and/or China Visa Fees

Some meals

Tips to guides and drivers

Expenses of a personal nature;

Extending trip to orphanage city or other destination cities after Chengdu which can be arranged with extra cost by us;
Notes:
For different scheduled tour, please contact us for a price quote
A child has to be less than 12 years old to receive a discount.
Twin beds in China hotels, about 40 – 50 inches wide, are closer in width to the 54" double size beds in the U.S., and much wider than the 39 inches wide twin beds found in U.S. homes.
If your itinerary states "free time" or "free day", no activities would be planned for you and your English-speaking tour guide and driver would not be present.
Lotus Travel highly recommends clients to purchase travel insurance. The Travel Plus Plan offered by the Travelex Insurance Company has excellent travel benefits and children 15 and under are free of charge when traveling with an adult.
You need to apply for your Chinese visa 3 months before the trip. Please visit our website at http://www.lotustours.net/visas/china.shtml for detailed visa information and contact our visa agent – Apple at apple@lotustours.net for any visa questions
A $500.00 per person non-refundable deposit is due at the time of registration.
Balance is due 60 days before departure.
Note: Customer Commitment - Each Lotus agent is committed to respond to each email with an acknowledgement of receipt within 24 hours. If you do not receive email acknowledgement within 1 business day, please check your spam box for our agents'response e-mail or send your notice to
iris@lotustours.net
or call 1-800-956-8873.
To review full listing of terms and conditions, refer to:
http://www.lotustours.net/info/terms.shtml