The Great China Adventures Tour
Imagine the excitement and happiness of your children while they are hugging and feeding the adorable baby pandas at the panda research base in Chengdu, and the enjoyment they will gain during their bike ride on the ancient city wall of Xian. All of these will become reality when your family signs up for this special heritage tour!
In addition to the routine sightseeing at reputable historical attractions, little explorers can take traditional Chinese painting and calligraphy lessons; learn to make traditional Chinese dumplings (Jiaozi) with their family members, enjoy a gorgeous scenic Li River Cruise and pleasant home stay in Guilin, where they can live among local Chinese residents.
Tour Overview
Tour Code: CHHT-TGCAT
Trip Duration: 14 days/13 nights
Beijing, Xian, Chengdu, Guilin, Shanghai
Departure Dates:
Daily
Day 1 : Beijing
Depart Canada to begin your explorations at China's most popular sites and cities. Cross the International Date Line enroute to China.
Day 2 : Beijing
Arrive in Beijing and meet your English-speaking guide and driver after claiming your baggage. You will then travel to your hotel to settle down and adjust to the time difference.
Day 3 : Beijing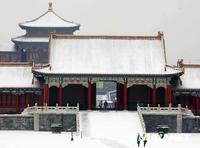 Begin your day with a tour at the Forbidden City. Listed as a world heritage site in 1987, the Forbidden City contains the largest group of intact palace structures in the world. The palace is 720,000 square meters in size and contains 9,999 rooms, numerous pavilions, gardens and courtyards. Then tour to the Tiananmen Square. Noted as the largest city square in the world, the square was initially designed for political rallies and important gala events. Today the square is flanked by the Forbidden City in the north, the Great Hall of the People in the west, Mao TseTung's Mausoleum in the south and the Museum of Chinese Revolution and the Museum of Chinese History in the east. Explore the fascinating Hutong neighborhoods. Beijing's oldest Hutongs were constructed during Yuan, Ming and Qing dynasties. Your tour will take you through some of the best-preserved Hutong neighborhoods that represented the history, culture, and lifestyle of old Beijing.
Day 4 : Beijing
Visit a UNESCO world heritage sites today. Begin your day with a tour at the Great Wall. Constructed more than 2,000 years ago by China's first emperor, the ancient wall is 6,350 km in length and the only visible man-made structure that could be seen from space. As an optional program at night, you can enjoy either a Kungfu or acrobatics show.
Day 5 : Beijing/Xian
In the morning, explore the imperial gardens of the Summer Palace originally built in 1750 and later rebuilt in 1886. Located in the western outskirts of the city, the Summer Palace is the leading classical garden in China and a UNESCO world heritage site. In the afternoon, visit China's largest temple and altar-the Temple of Heaven, which is often depicted as the most recognizable symbol of China. You can fly kites there.Early this evening, get onboard a luxury express train for your overnight journey to Xian.
Day 6 : Xian
Arrive early this morning in China's ancient capital city of Xian. Known as ChangAn in ancient times, Xian was the capital city of China for 1,062 years (13 dynasties), under the reign of 73 different emperors. Visit the Shaanxi Provincial History Museum for an in-depth look at China's extensive history with more than 2,000 items on exhibit. In the afternoon, get on top the 950-year-old city wall and ride a bike; be sure to enjoy the panoramic view of the city. Built during the early Ming Dynasty with a core of mud covered by three layers of bricks, it is the only city wall to remain intact in China today.
Day 7 : Xian
Embark on an amazing historical and cultural adventure today and begin with an exploration at the Terracotta Warriors and Horses Museum, where you will find lifelike terracotta soldiers, horses, chariots and weapons created more than 2,000 years ago to guard the first emperor's tomb. Their vibrant painted details worn away during weathering, thus revealing their original earthy color. Learn to make JiaoZi (dumplings) in a local restaurant and have JiaoZi lunch there. Enjoy recording your experiences of the day in a journal or just lounging in your fine hotel room.
Day 8 : Xian/Chengdu
You will fly to Chengdu from Xian today. After lunch, enjoy a tour at the Silk Embroidery Institute and People's Park with Tea House and Garden in the afternoon.
Day 9 : Chengdu
Embark on an extraordinary journey to the Panda Breeding Research Base this morning. A professional panda caregiver will give you a brief insight of the panda researches and everyone will have the rare opportunity to hold and hug a baby panda; something everyone in the family is sure to enjoy. After lunch, visit the fascinating SanXingDui Museum. Little is known about the mysterious cultural and religious beliefs of the people of SanXingDui, yet visitors can gain a sense of the culture through intriguing displays of ancient and rare artifacts used in daily life and religious ceremonies.
Day 10 : Chengdu/Guilin
You will fly to Guilin from Chengdu today. Visit the Guilin Children's Palace to learn basic techniques of Chinese calligraphy and landscape painting.
Day 11 : Guilin
After breakfast, embark on a Li River scenic cruise along the Li River and enjoy a delicious lunch onboard. The landscape of Guilin is noted as the most gorgeous in China, with sparkling clear waters and magnificent green hills; you will see fishermen fishing with their trained cormorant birds occasionally as well. Your children will be excited to watch water buffalos either grazing along the riverbanks or taking lazy afternoon swims.
Day 12 : Guilin/Shanghai
Begin your tour with a visit to the Reed Flute Caves (Ludi Yan). Enjoy the spectacular views of beautiful backdrops created by the cool atmosphere and colorful lighting displays inside the caves as you pass by many fanciful shapes (don't forget to look for the Monkey King). After lunch, transfer to the airport for your flight to Shanghai.
Day 13 : Shanghai
After a good night's sleep, enjoy sightseeing in the "Paris of the East". Take a walk along the Bund located near the HuangPu River. Visit the classic YuYuan Garden, where you can see intricately designed pathways that surrounded pavilions, koi stocked pools and quiet courtyards; then browse around various shops and restaurants in the neighboring YuYuan Bazaar. Visit the Jade Buddha (Yufo) Temple, where you can hear the prayers of its monks and the rings of its bells; and at the same time see the smoke of incense curls toward the sky as you enter the calm temple grounds.
Day 14 : Shanghai
Transfer to Shanghai airport for flight back to Canada.
REMARKS:
B = Breakfast L = Chinese Lunch D = Chinese Dinner
CA= Air China CZ=China Southern Airline MU=China Eastern Airlines
Valid: Apr 01, 2021 - Mar 31, 2022
| | | | | |
| --- | --- | --- | --- | --- |
| | 1 Person | 2-5 Persons | 6-9 Persons | Hotel Single Supplement |
| Standard Class | $4505.00 | $2995.00 | $2540.00 | $470.00 |
| Deluxe Class | $5115.00 | $3299.00 | $2840.00 | $700.00 |
| Superior Class | $5605.00 | $3550.00 | $3085.00 | $880.00 |
Note: child price is 80% of adult price.
City
Standard Class
Deluxe Class
Superior Class
Beijing 

.

COTO Modern Hotel(Bei Guozhan)
Novotel Peace Hotel
Hotel New Otani Chang Fu Gong
Xian 

.

Holiday Inn Express Xian Bell Tower
Holiday Inn Xi'an Big Goose Pagoda
Grand Noble Hotel
Chengdu 

.

Home Inn Chendu Kuanzhai Alley
Minshan Lhasa Grand Hotel
Chengdu Tibet Hotel
Guilin 

.

Guilin Days Hotel
Guilin Exhibition International Hotel
Guilin Exhibition International Hotel
Shanghai 

.

Lingdianyi Boutique Hotel
Shanghai Central Hotel
Shanghai Grand Central Hotel
| | | | | | | | |
| --- | --- | --- | --- | --- | --- | --- | --- |
| Hotel | Indoor Pool | Outdoor Pool | Gym | Safe Box | Refrigerator | Hair Dryer | Kitchen |
| COTO Modern Hotel(Bei Guozhan) | | | | | | √ | |
| Novotel Peace Hotel | √ | | √ | √ | √ | √ | |
| Hotel New Otani Chang Fu Gong | | | | √ | √ | √ | |
| Holiday Inn Express Xian Bell Tower | | | | | | √ | |
| Holiday Inn Xi'an Big Goose Pagoda | √ | | √ | √ | √ | √ | |
| Grand Noble Hotel | | | √ | | √ | √ | |
| Home Inn Chendu Kuanzhai Alley | | | | | | √ | |
| Minshan Lhasa Grand Hotel | | | √ | √ | √ | √ | |
| Chengdu Tibet Hotel | | | √ | √ | √ | √ | |
| Guilin Days Hotel | | | | √ | √ | √ | |
| Guilin Exhibition International Hotel | √ | | √ | √ | √ | √ | |
| Lingdianyi Boutique Hotel | | | √ | | | √ | |
| Shanghai Central Hotel | | | √ | | √ | √ | |
| Shanghai Grand Central Hotel | √ | | √ | √ | √ | √ | |
Inclusions
Three different styles of hotels listed as above.
Beijing/Xian soft sleeper train ticket.
Tour price includes hotel accommodations, sightseeing and meals as noted in the itinerary, intra-China airfare, private transfers and ground transportation, and the services of an English- speaking guide and driver.
All prices are quoted in US Dollars and are subject to change without notice. Please check at time of booking.
All prices are quoted per person based on two people sharing a room (double occupancy). Single supplement applies for single travelers.
Exclusions
Passport or China Visa Fees.
Optional Program.
Tips to guides and driver.
Expenses of a personal nature.
Costs associated with side-trip to orphanage
Extra cost for holding a panda.
International Airfare (Please contact our travel advisors for the consolidator rate of international air ticket).
Note: Customer Commitment - Each Lotus agent is committed to respond to each email with an acknowledgement of receipt within 24 hours. If you do not receive email acknowledgement within 1 business day, please check your spam box for our agents'response e-mail or send your notice to
iris@lotustours.net
or call 1-800-956-8873.
To review full listing of terms and conditions, refer to:
http://www.lotustours.net/info/terms.shtml