I can think of no better way to travel China than with "Uncle Louie"
Hi Louie,
I know you are enjoying being reunited with your family. Thank you so very much for taking time to travel with us. You are the host with the most. I'm working on the laundry, mail, etc. and the laptop I'm using uses Works instead of Word so I'll open your attached survey a little late on my other laptop. It will certainly all be favorable, however. You really gave the girls many wonderful experiences to last a lifetime, but the pace you maintained felt relaxed and low key. It was great for we adults, too! Thanks for your flexibility, your terrific planning, sharing your insights, and your assistance every step of the trip. I can think of no better way to travel China than with "Uncle Louie" :) Please give your daughters each an extra hug for us, and extend our appreciation to your wife her understanding and giving us the opportunity to benefit from having you travel with us.

Sincerely,
Max
Discovering Shangri-La & Tibet

This is THE trip to write home about and to tell your friends about—it is not for the faint of heart as you travel to Tibet and to elevations of roughly 15,000 feet above sea level.!! Enjoy key sites of multiple ethnic and minority groups. Visit Lijiang, Shangri-La, Tibet and take in the local flavor of these unspoiled areas in outermost regions of China. Visit the home of a local Tibetan family and enjoy a tea-drinking ceremony. Visit the most recognizable Tibetan symbol—the Potala Palace. It is said to contain 1,000 rooms, 10,000 altars and 200,000 Buddhist statues.
Tour Overview
Kunming
,
Dali
,
Lijiang
, Shangri-La, Chengdu
Departure Dates:
Every Sunday
Itinerary
Day 01: US/Kunming
Depart the United States today to begin your Discovering Shangri-La & Tibet Tour. Cross the International Date Line en route to China.
Day 02: Kunming
Arrive at Kunming Airport. Meet your local English-speaking tour guide and driver at the Kunming Airport and be transferred to the hotel for check-in. You will love this beautiful city in Southwestern China that is affectionately known as the "City of Eternal Spring" among Chinese nationals, who love to visit here.
Day 03: Kunming / Dali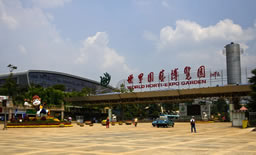 After breakfast, visit the World Horticultural Expo in morning, where you will enjoy a variety of natural beautiful plants which showcase different sections of the globe. In afternoon, embark on a journey to the Stone Forest (Shilin), which offers an almost "out of this world" experience. The shape and imagery of the forest was formed by millions of years of weathering; the spectacular sceneries there are stunning and you will feel like you are transported to another world. Return to Kunming and get onboard an overnight express train to Dali in the late evening.
Day 04: Dali
meals: B/L
Arrive in Dali early this morning. Your English-speaking tour guide and driver will bring you to the hotel upon your arrival. After breakfast, visit the Bai minority people's town—Xizhou, which is a few kilometers away from Dali. Here in Xizhou, many people of the Bai Minority group have homes which retain their traditional architecture, paintings and layout as it was many years ago. Browse the local market town and experience a bit of life among the Bai people, prior to lunch. This afternoon, you may explore Dali's Three Pagodas (San Tsai), which are located at the foot of Mt. Cangshan and faces beautiful Erhai Lake. With a history of more than 1800 years, these ancient temples have survived storms and earthquakes over the centuries, the Three Pagodas are still the significant symbols of exceptional architectural technology and the brilliant culture of Dali. Your tour continues at the beautiful Butterfly Spring (Hudie Quan) and the Butterfly Museum, where thousands of butterflies gather in spring. Late this afternoon, you may enjoy a special performance of folk songs and dances performed by traditional Bai Nationality Three Course Tea.
Day 05: Dali
meals: B/L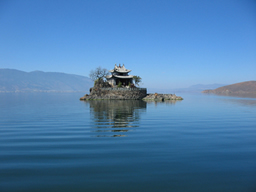 This morning you can visit Erhai Lake and see this lakes beauty first. The lake is one of the seven largest freshwater lakes in China where boats and fishing vessels usually sail by. You can also enjoy the spectacular sceneries of Mt. Cangshan and several small islands nearby. Move on to the top of Mt. Cangshan to view colorful blossoms of azaleas, camellias and rhododendrons. After lunch, visit Dali's ancient city, which contains stonewalls, gray tiled roofs, phoenix and dragon carved windows and doors while crossing over streams that crisscross the city which give Dali so much of its charm and character.
Day 06: Dali / Lijiang
Enjoy a scenic drive from the Yunnan countryside to Lijiang, a UNESCO world heritage site and center of the Naxi minority culture. After lunch, visit Lijiang's Ancient City—Dayanzhen, a town that is carefully laid out around a central square with small cobblestone streets and lanes radiating out in all directions. With the neat brick houses and fabulous views, Dayanzhen is the perfect place to stay—you will be away from the bustling activities of the large metropolitan cities. You can also move to the Black Dragon Pool (Yu Quan), which is known as the Jade fountain. Here you will view its green deep waters and magnificent sceneries of the Jade Dragon Mountain.
Day 07: Lijiang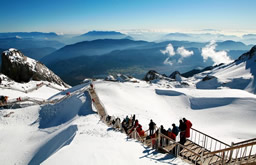 After breakfast, visit the spectacular Jade Dragon (Yulong) Snow Mountain, which towers over the land at an elevation of 18,360 feet at its highest point. If interested, you may take an optional cable car ride to the Dragon Spruce Meadow. Your tour continues at the Jade Peak Lama Temple (Yufeng Si), which is a small lamasery that is famous for its ancient Camellia Tree of 10,000 blossoms. After lunch, visit the White Water River to enjoy the extraordinary views in the area before exploring the Ming Dynasty Baisha Mural Paintings that Lijiang is famous for. If time allows, you may attend an optional performance of Baisha music performed by the Naxis.
Day 08 : Lijiang /Shangri-La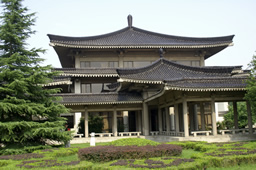 Depart Lijiang for Shangri-La by a private van and stop at the Tiger Leaping Gorge (Hutiaoxia). One of the deepest gorges in the world, the gorge drops more than 3,900 meters from the top to the raging river that feeds into the legendary Yangtze below. This gorge gets its name from the legend of a tiger jumping across it at the narrowest point of 30 meters – it's a spectacular sight to see in person. Check into your hotel in wonderful Shangri-La tonight and write of adventures and memories in this legendary location
Day 09 : Shangri-La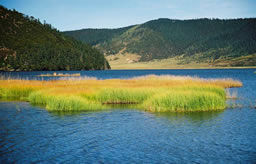 Shangri-La, which is heavily influenced by the Tibetan culture, is located in the northwestern corner of the Yunnan Province. This morning you will visit Bita Lake (Blanket of Oak Trees in Tibetan), which has crystal clear waters and is surrounded by species of rhododendron and azaleas. From May through June, "drunken fishes" can be seen in the lake due to their consumption of the slightly toxic petals of both azaleas and rhododendrons. In the afternoon, visit the home of a local Tibetan family where you will enjoy a tea-drinking ceremony and get to see traditional Tibetan songs and dancing.
Day 10 : Shangri-La/Lijiang
You will be transferred back to Lijiang today.
Day 11: Lijiang/Chengdu/Lhasa
Meet your local English-speaking tour guide and driver in the hotel lobby for transfer to the Lijiang Airport for your trip to Lhasa via Chengdu.
Day 12 : Lhasa
Visit the Drepung (Rice Heap) Monastery, which is Tibet's largest and richest monastery. Before the extension of the Potala Palace, Drepung Monastery was the place where each Dalai Lama resided. Hence, it is regarded as the mother monastery of Dalai Lamas. After visiting this location, where more than 7,700 monks have lived at once time, you will get to explore the Sera (Wild Rose Garden) Monastery founded in 1419. Approximately 300 monks continue to stay at one of the monasteries' three colleges today.
Day 13: Lhasa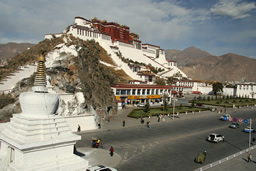 This morning, you will get to visit the most recognizable Tibetan symbol—the Potala Palace. It is said to contain 1,000 rooms, 10,000 altars and 200,000 Buddhist statues. After exploring this legendary location, you will move on to the Jokhang Temple, which has numerous treasures and the golden statue of Sakyamuni from Xian. After lunch, stroll along Barkhor Street (Octagon Street) located in the center of old Lhasa. You can shop for religious artifacts; prayer flags scriptures, jewelry and other Tibetan handicrafts in the busy market.
Day 14: Lhasa / Chengdu
After breakfast, get onboard for your flight to Chengdu. Your English-speaking guide and driver will meet you at the airport and take you to a wonderful lunch upon your arrival. Visit the Silk Embroidery Institute and see some incredible artists at work as they create intricate masterpieces of artwork in silk. Later, you will have a visit to the People's Park with Tea House and Garden in Chengdu and enjoy some local flavor of this relaxing city. This evening, enjoy some down time or explore the city on foot as you prepare to return from this cultural adventure.
Day 15: Chengdu/US
After your breakfast in the hotel, you will be transferred to the Chengdu Airport for traveling to the next destination city, or to any Chinese gateway city for connecting your international flight home.
| | |
| --- | --- |
| City | Hotel |
| Kunming | Jin Jiang Hotel, Kunming |
| Dali | Landscape Hotel, Dali |
| Lijiang | Yinxiang Gucheng Wenyuan Hotel, Lijiang |
| Zhongdian | Gyalthang Dzong Hotel, Zhongdian |
| Lhasa | Four Points By Sheraton Hotel, Lhasa |
| Chengdu | Tianfu Sunshine Hotel, Chengdu |
| | | | | | | | |
| --- | --- | --- | --- | --- | --- | --- | --- |
| Hotel | Indoor Pool | Outdoor Pool | Gym | Safe Box | Refrigerator | Hair Dryer | Kitchen |
| Jin Jiang Hotel, Kunming |   |   | √ | √ | √ | √ | |
| Landscape Hotel, Dali |   |   | √ | √ | √ | √ | |
| Yinxiang Gucheng Wenyuan Hotel, Lijiang |   |   | √ | √ | √ | √ | |
| Gyalthang Dzong Hotel, Zhongdian |   |   | √ | √ | √ | √ | |
| Four Points By Sheraton Hotel, Lhasa |   |   |   | √ | √ | √ | |
| Tianfu Sunshine Hotel, Chengdu |   | √ | √ | √ | √ | √ | |
Inclusions
Kuming/Dali Air-conditioned bus fare;
Airfare of Shangri-La/Lhasa/Chengdu;
Airport/hotel/airport (or bus station) transfer as listed on itinerary.
All listed sightseeing and tour programs with private English-speaking tour guide and private van or bus with driver.
Hotels and meals as stipulated on itinerary.
All prices are quoted in US Dollars and are subject to change without notice. Please check at time of booking.
All prices are quoted per person based on two people sharing a room (double occupancy). Single supplement applies for single travelers.
Lhasa visit permit;
Exclusions
US/Kunming, Chengdu/US international airfare. Please contact us for discount international airfare starting from your city.
Passport and/or China Visa Fees
Some meals
Tips to guides and drivers
Expenses of a personal nature
Notes:
For different scheduled tour, please contact us for a price quote
Lotus Travel highly recommends clients to purchase travel insurance. The Travel Plus Plan offered by the Travelex Insurance Company has excellent travel benefits and children 15 and under are free of charge when traveling with an adult.
A $500.00 per person non-refundable deposit is due at the time of registration.
Balance is due 60 days before departure.
Remarks
| | | |
| --- | --- | --- |
| B = Breakfast | L = Chinese Lunch | D = Chinese Dinner |
| AA = American Airlines | CA= Air China | MU=China Eastern Airlines |
| CX = Cathay Pacific Airways | CZ=China Southern Airline | |