Our five nights at Guilin Ming Garden were great as well! It is certainly our favorite place in China. The apartment is remodeled, extremely clean and has a great view; having internet access is a nice touch and there is plenty of room for our entire family. After a long day of fun, it was relaxing to come home to delicious home cooked meals prepared by our nanny Mrs Huang.She made us feel right at home with her traditional Cantonese home cooked dinners: her normal dinner consist of soup, two meat dishes and two vegetable dishes; very much like the meals our Cantonese parents made for us when we were younger and the meals had brought back fond memories.
-Helen Lee
Lotus - A trusted name in family travel
Saigon or Ho Chi Minh City

A City with Two Names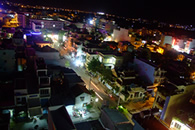 Saigon is the largest city in Vietnam and the former capital of the Republic of Vietnam (South Vietnam). It is approximately 65 miles in length and roughly 35 miles wide. It is home to approximately 9 million residents and was renamed Ho Chi Minh City, after American troops left in 1975 and nearby districts were merged to create present day boundaries. Typically the term Saigon refers primarily to the urban districts of Ho Chi Minh City, or what had been part of the original Saigon. The best time for visiting is during the dry season which typically begins in December and lasts until April.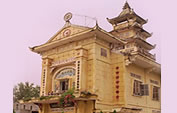 There are many stories regarding the origin of Saigon's name. One theory is that Saigon ties back to a Khmer word which meant "Kapok Tree Forest". In Khmer folklore, southern Vietnam was given to the Vietnamese government as a dowry for the marriage of a Vietnamese princess to a Khmer prince in order to stop invasions of Khmer villages. One thing is clear, history shows that this region was swampland before the 1700's when a mayor decided to fill many of the canals in order to form streets. It then became a strategic location for trade and commerce and began to have military importance as well.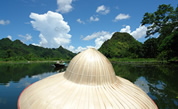 In the 1900's the Spanish helped the French invade the city and this began the long struggle between Vietnam and France. During this time, Saigon underwent a huge building boom and it was often referred to as the "Pearl of the Orient" and more than 10% of its citizens were French.
Once France was finally defeated in 1954, Vietnam was divided into two separate countries and Saigon became a central locale for people resettling from the north and central areas of Vietnam.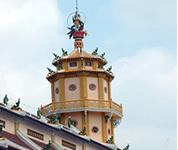 This also began a period of significant growth for Saigon in commerce and expansion. America later began another tumultuous chapter in Vietnam's history with the Vietnam War. After America withdrew, then in 1976 Saigon officially became "Ho Chi Minh City", though it is still referred to as Saigon, by both foreigners and Vietnamese.

The European cultural influence still shows prominently in architecture. The distinct blend is evident as one walks the city and encounters many coffee houses with a distinct French flavor.

Today, Saigon is a growing blend of Socialist government and a controlled capitalist market. Signs of significant growth are everywhere and business people plying their trade are an increasingly common sight. Unlike other cities in Vietnam, Saigon is very active at night.
Local restaurants and music halls host sellout crowds and stay open late into the night.
Spots to see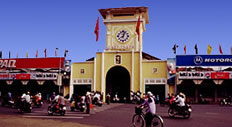 Ben Thanh market has been one of Saigon's most famous landmarks which have been in existence since France invaded the fort city. The original market was on the shores of Ben Nghe river and was the spot for merchants and soldiers to land. In 1859, when the French invaded Saigon and overtook the fort and Ben Thanh Market was destroyed. It was rebuilt shortly thereafter and in 1899 the market was moved to the center of the city where it remains today.

Vinh Nghiem Temple
This majestic temple is located on Cong Ly boulevard and was completed in 1971 with a large parcel of land at its base. The ground floor has a library, the auditorium, and offices. On the upper court yard there is a seven-level "stupa", which is a Buddhist commemorative monument. Next to the tower there is a large bell given to the temple by Japanese Buddhists.
Transport

Currently there are plenty of motorbike taxis or car taxis to take you wherever you want to go.
A ride on a "cyclo" (which is sort of akin to a reverse tricycle with the passenger sitting in a front seat) through downtown HCMC is a great way to see the city. You can experience the sights, sounds and smells from your open air vehicle with a relaxed pace in a cyclo. However, cyclos are harder to find these days because the government restricts cyclos on busy urban streets. If you do visit and decide on one of these classics for your ride, it is good to be careful with cameras and purses and wallets while cyclo riding as these items can be easily stolen by passing motorbike riders.
Floating Markets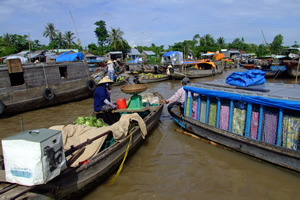 You will want to take a short trip outside the city to visit one of the best known floating markets. When you travel just a couple hours south of Saigon, along the Mekong Delta and it's many rich sights, you can visit the Cai Be market. It is fun to search for souvenirs and interesting finds among the colorful floating markets where vendors hang up the merchandise while you drift through a tropical landscape. It is fun to shop while surrounded by water palms and small rowing boats. It's a memorable way to spend the day. Families can enjoy this type of excursion during one of our Vietnam heritage tours, which are customized to your specifications. You can get a sample of visiting Ho Chi Minh City and other key sites in Vietnam in this tour: Tour 1B. Lotus Travel is always ready to make your visit to Vietnam trip of a lifetime!