Ancient Residences & Mountaintop Tour

This tour captures several avenues for exploring life within one of the most beautiful regions of China. You will get to stay at a luxury hotel at the top of the amazing Huangshan Mountain, with its grand vistas and sunrise observation deck. This tour also takes you to explore "China's most beautiful village" of Wuyuan, which offers stunning landscapes, deep caves set among the majestic mountains with crystal clear rivers.
In addition to traveling via air, your family will have private van transport, overnight train, public bus, mountain cable car, plus breathtaking views as you arrive at your mountaintop hotel. You will also get to do some hiking in this vibrant exploration of China's natural beauty. Embark on this tour anytime you would like to "dig deeper" into authentic Chinese culture while exploring life in the countryside. Email louie@lotustours.net to explore getting your family involved in this active exploration of life in China.
Tour Overview
Tour Code: LY-HA-ARMT
Trip Duration: 10 days/9 nights
Shanghai,Suzhou,Mt. Huangshan,Hangzhou
Departure Dates:
Every Tuesday
Day 1 : Tuesday North America /Shanghai
Leave your home city for Shanghai today.
Day 2 : Wednesday Shanghai
Arrive at the Shanghai Pudong International Airport. Your private English-speaking guide and driver will take you to your hotel. Soak in your child's birth country while you adjust to your new time zone and surroundings.
Day 3 : Thursday Shanghai/Suzhou/Shanghai
Meet your local English-speaking tour guide and private van driver at the hotel lobby for the trip to Suzhou which is one of the most famous cities in China known for its beautiful gardens. You will travel back to Shanghai later this afternoon.
Day 4 : Friday Shanghai/Mt. Huangshan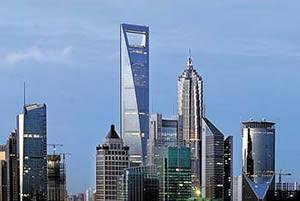 Begin your adventure with a relaxing walk along the Bund near the Huang Pu River. Then visit the Yu Yuan Garden and enjoy its intricately designed pathways, pavilions, koi stocked pools and quiet courtyards. Later you will pass by the shops and restaurants of the YuYuan Bazaar on your way to lunch. This afternoon you'll enjoy a visit to the Jade Buddha (Yufo) Temple; as you enter the temple grounds, you might hear prayers of the monks and glimpse the smoke of incense curling toward the sky. Next, you will step into a different world when you visit the Shanghai Financial Center where you will take the elevator to its 100th floor to enjoy the bird's eye view of this most modern metropolis-- Shanghai.
Next, you will be transferred to the Shanghai Train Station and take a bullet train for the trip to Mt. Huangshan.
Shanghai/Mt. HuangShan Bullet Train D3323 (7:05P/9:53P) (Your tour guide has train fare)
Day 5 : Saturday Mt. Huangshan
You will travel to the top of Mt. Huangshan for your overnight stay at the well-known Beihai hotel, which is situated near the mountain peak. Many Huangshan sights, including Lion Peak, Shixin Peak and the West Sea Grand Canyon are within hiking distance of this hotel. You will be close to the Yungu Cable station and the sunrise observation locale. This incredible hotel has an amazing view of this famed peak and you will take cable up mountain. Before the cable ride, you will leave your main luggage in the van, and pack a backpack for a two night stay on top of the mountain. Enjoy a full day of touring as you explore Mt. Huangshan.
Day 6 : Sunday Mt. Huangshan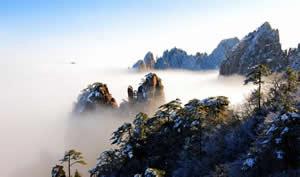 Enjoy a full day tour exploring different areas of Mt. Huangshan and its breathtaking beauty. You will hike past your last night's hotel and stay a little farther up the mountain at the Xihai Hotel for your overnight stay. The lovely hotel is located at the foot of Lion Peak and is only a 10 minute walk to the sunrise observation deck. Definitely an ideal way to capture some lovely and memorable scenic photos, plus get some healthy hiking accomplished in the beautiful, fresh mountain air!
Day 7 : Monday Mt. Huangshan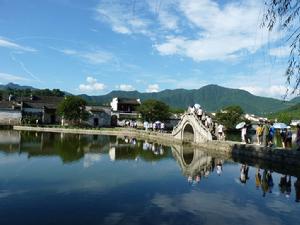 You will take cable down this morning and visit the Lovers' Valley, which is located at the northern foot of Huangshan Mountain. It is about 6 kilometers long and boasts more than 100 emerald ponds. During the daylight hours, the ponds take on different colors; after sunset, the shadows of the moon and mountains present distinct and lovely sights. Today you will also visit Hongcun Village and the Tunxi Old Street, which dates back to the Song Dynasty (960-1279) with centuries' old history within the street. The street houses many ancient shops and some informal museums dedicated to preserving this history.
Day 8 : Tuesday Mt. Huangshan/Wuyuan/Mt. Huangshan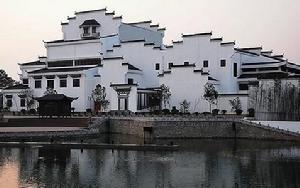 You will travel to Wuyuan by a private van to explore the city with its ancient Anhui style architecture set among a magnificent landscape. It has been described by some photographers as "China's most beautiful village" with its surrounding lovely landscape dotted with deep rock formations, deep caves and clear rivers among emerald green mountains. Your Chinese lunch and dinner are both included; you will travel back to the ancient town of Tunxi late this afternoon, as you absorb life in the countryside in China.
Day 9 : Wednesday Mt. Huangshan/Hangzhou
This morning you will take the Huangshan Bus Station for the 3 hour trip (air conditioned public bus) to Hangzhou. Taking a public bus allows your family to get much closer to regular life in China and even practice a few phrases of Mandarin if you like. Chinese citizens are very gracious whenever a visitor has learned some language and speaks with them. (Your tour guide has bus fare). Meet your local English-speaking tour guide and private van driver at the exit of the Hangzhou Bus Station and you will be transferred to the hotel. After the included Chinese lunch, enjoy 1/2 day city tour of the beautiful sites around the picturesque city of Hangzhou.
Day 10 : Thursday Hangzhou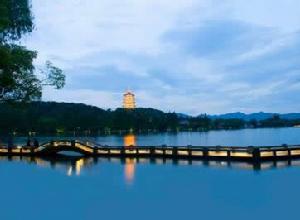 Start your tour of this most famed spot via a lovely boat ride to view and experience West Lake from the water. West Lake is a well-known symbol and place of tranquility within Hangzhou. You will get to visit Fairy Island, which is definitely worth experiencing. You will also see the Ten Best Views of West Lake, which includes "Three Pools Mirroring the Moon" viewpoint. The occasional pagoda and Chinese-style arched bridges add atmosphere to the tree-lined walkways, lush islands and hills. Visiting West Lake is a very special part of any China experience. This afternoon, take a step deeper into the authentic Chinese culture and visit Longjing village where you will enjoy a cup of famous Longjing Green Tea. You will gain appreciation for the culture of tea in China and learn many things about tea not previously known.
Day 11 : Friday Hangzhou/N. America or other destination city in China
After your breakfast in the hotel, you will be transferred to the Xian Airport for your returning flight to N. America or to the next destination city in China. Design the itinerary you wish for the hometown area visit. Most often it includes an orphanage visit and meeting staff in the morning, followed by a lunch meal at a local restaurant. If desired, we have guides are also trained to assist adoptees/families who choose to explore clues for birth family connections. Please let us know your goals and we will customize plans according to your objectives. You may contact iris@lotustours.net to discuss additional questions.
REMARKS:
B = Breakfast L = Chinese Lunch D = Chinese Dinner
CA= Air China CZ=China Southern Airline MU=China Eastern Airlines
Valid: Apr 01, 2021 - Mar 31, 2022
| | | | | |
| --- | --- | --- | --- | --- |
| | 2-5 Persons | 6-9 Persons | 10 Persons | Hotel Single Supplement |
| Standard Class | $2825.00 | $2085.00 | $1880.00 | $825.00 |
Note: child price is 80% of adult price.
City
Standard Class
Shanghai 

.

Shanghai Grand Central Hotel
Huangshan 

.

Beihai Hotel, Mt. Huangshan
Huangshan 

.

Xihai Hotel, Mt. Huangshan
Huangshan 

.

Huishang International Hotel
Hangzhou 

.

Hangzhou Haihua Hotel
| | | | | | | | |
| --- | --- | --- | --- | --- | --- | --- | --- |
| Hotel | Indoor Pool | Outdoor Pool | Gym | Safe Box | Refrigerator | Hair Dryer | Kitchen |
| Shanghai Grand Central Hotel | √ | | √ | √ | √ | √ | |
| Beihai Hotel, Mt. Huangshan | | | | √ | √ | √ | |
| Xihai Hotel, Mt. Huangshan | | | | √ | √ | √ | |
| Huishang International Hotel | | | | | | √ | |
| Hangzhou Haihua Hotel | | √ | √ | √ | √ | √ | |
Inclusions
Soft Seat train ticket of Shanghai/Mt. Huangshan;
Public Air-conditioned bus fare of Mt. Huangshan/Hangzhou;
Private transfer of Shanghai/Suzhou/Shanghai & Mt. Huangshan/Wuyuan/Mt. Huangshan;
Airport/hotel/airport (or train station) transfer as listed in itinerary;
All listed sightseeing and tour programs with private English-speaking tour guide and private van or bus with driver.
Hotels and meals as stipulated in itinerary.
Exclusions
International airfare of US/Shanghai, Hangzhou/US;
Some meals.
Tipping to tour guide and driver.
Chinese visa.
Expenses of a personal nature.
Orphanage visit filing fees.
Terms & Conditions:
Deposit: A $500 per person non-refundable deposit needs to be sent to us within one week in order to guarantee the above quotes.
Balance: Balance is due 60 days before departure.
Airfare: Airfare is due at time of ticket issuance.
Terms & Conditions: Our terms are listed on our homepage www.lotustours.net, located on the bottom of the page, right above "Resources".
Note: Customer Commitment - Each Lotus agent is committed to respond to each email with an acknowledgement of receipt within 24 hours. If you do not receive email acknowledgement within 1 business day, please check your spam box for our agents'response e-mail or send your notice to
iris@lotustours.net
or call 1-800-956-8873.
To review full listing of terms and conditions, refer to:
http://www.lotustours.net/info/terms.shtml