Hunan Children Reunion Heritage Tour

Tour Overview
Tour Code:PCRT-HNCRHT
Trip Duration:14 days/13 nights
Beijing, Xian, Chengdu, Changsha, Guangzhou
Departure Dates:
Every Monday
Itinerary
Day 1: Saturday US/Beijing
Leave U.S. for Beijing today.
Day 2: Sunday Beijing
Arrive at the Beijing International Airport. Your private English-speaking guide and driver will take you to your hotel. Soak in your child's birth country while you adjust to your new time zone and surroundings.
Day 3: Monday Beijing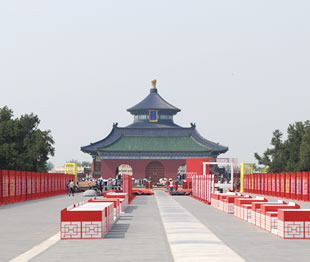 Begin your day with a tour at the Forbidden City. Listed as a world heritage site in 1987, the Forbidden City contains the largest group of intact palace structures in the world. The palace is 720,000 square meters in size and contains 9,999 rooms, numerous pavilions, gardens and courtyards. Then visit the Tiananmen Square. Noted as the largest city square in the world, the square was initially designed for political rallies and important gala events. Today the square is flanked by the Forbidden City in the north, the Great Hall of the People in the west, Mao TseTung's Mausoleum in the south and the Museum of Chinese Revolution and the Museum of Chinese History in the east. After a bowl of fresh hot noodles for lunch, you will visit the major 2008 Olympic Venues including the National Stadiums – "Bird's Nest" and the National Aquatics Center – "Watercube" in the afternoon.
Day 4: Tuesday Beijing

Begin your day with a tour at the Great Wall. Constructed more than 2,000 years ago by China's first emperor, the ancient wall is 6,350 km or about 4,000 miles in length. As an optional program at night, you can enjoy either a Kungfu or acrobatics show.
Day 5: Wednesday Beijing/Xian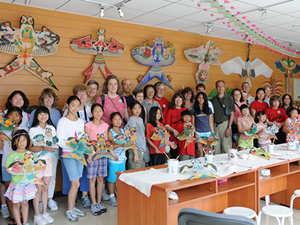 This morning explore the fascinating Hutong neighborhoods. Beijing's oldest Hutongs (alleys) were constructed during the Yuan, Ming and Qing dynasties. Your tour will take you through some of the best-preserved Hutong neighborhoods that represented the history, culture and lifestyle of old Beijing. After a special homemade lunch at a local family residence in the Hutong Lane area, your family can learn to construct your own kites under professional instruction. In the afternoon, visit China's largest temple and altar—the Temple of Heaven, which is often depicted as the most recognizable symbol of China. Then relax and fly your handmade kites with the others at the Temple of Heaven.
This evening, get onboard a luxury express train for your overnight journey to Xian.
Beijing/Xian Soft Sleeper Train Z19(9:24P/8:25A + 1 day)(Your tour guide has tickets)
Day 6: Thursday Xian
Arrive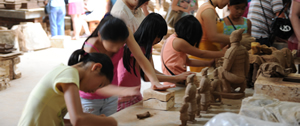 early this morning in China's ancient capital city of Xian. Known as ChangAn in ancient times, Xian was the capital city of China for 1,062 years (13 dynasties and 73 different emperors). Visit the Shaanxi Provincial History Museum for an in-depth look at China's extensive history with more than 2,000 items on exhibit. Enjoy the traditional puppet show in the GaoJia Courtyard. Your children can practice with – the puppets after the show.
Day 7: Friday Xian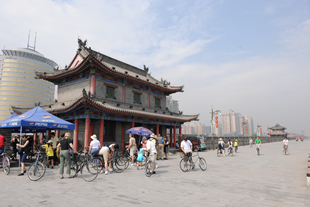 Embark Embark on an amazing historical and cultural adventure today, beginning with an exploration at the Terracotta Warriors and Horses
Museum, where you will find lifelike terracotta soldiers, horses, chariots and weapons created more than 2,000 years ago to guard the
first emperor's tomb. Their vibrant painted details have worn away and revealed their original earthy color. Learn to make JiaoZi
(traditional Chinese dumplings) in a local restaurant and have a JiaoZi lunch there. In afternoon you will get on top the 950-year-old city wall and ride a bike; be sure to enjoy the panoramic view. Built during the early Ming Dynasty with a core of mud and covered by three layers of bricks, Xian's city wall is the only city wall that remained intact in China today.
Day 8: Saturday Xian/Chengdu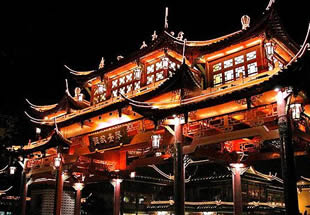 After breakfast, your local guide and driver will transfer you to Xian Airport for trip to Chengdu.
Xian/Chengdu CZ6433(10:45A/11:55A) (Your local guide has tickets)
Please meet your local guide and driver at the Chengdu airport exit for transfer to the hotel. You will visit the People's Park Tea House in the afternoon. Enjoy a traditional Chinese hot pot as your Christmas Dinner in Chengdu tonight.
Day 9: Sunday Chengdu/Changsha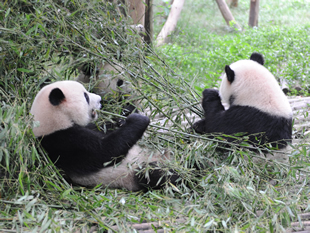 Embark on an extraordinary journey to the Panda Breeding Research Base this morning. A professional panda caregiver will give a brief insight into panda research findings and everyone will have the rare opportunity to hold and hug a baby panda — something everyone in the family is sure to enjoy. After lunch, visit the JinLi Old Town in afternoon.
Notes: When you tour the Panda Reserve Center, you will receive an introduction to panda research at the reserve followed by the opportunity to meet and hold a baby panda. Please note that the cost of holding the panda and taking a picture with one is an additional fee to the entrance fee. The costs are USD334.00/per person for holding a baby giant panda. Although the pandas are cute and adorable, they may inflict accidental injuries in their playful nature.
You will be transferred to the Chengdu Airport for your flight to Changsha at late afternoon.
Chengdu/Changsha CZ3462(5:00P/6:30P)(Your local guide has tickets)
Meet your local English-speaking tour guide and driver at the Changsha Airport for transfer to the hotel.
Day 10: Monday Changsha
After visit to the Hunan Provincial Civil Affairs and a welcome ceremony, you will be transferred to the Changsha Welfare Institute. You will bring the New Year gifts to the orphanage children and may do volunteer work for 1/2 day there. Have lunch with the orphanage children in the institute.
It is recommended to bring your New Year gifts to the children of the orphanage today. It will be quite a surprise for them.
Day 11: Tuesday Changsha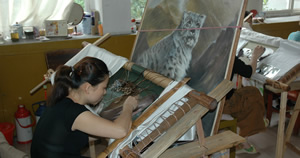 Visit the local elementary school in Changsha this morning. Have one class (45 minutes) with the local children and exchange gifts in the classroom. After the included Chinese lunch, you will visit the Hunan Embroidery Institute this afternoon.
Day 12: Wednesday Changsha/Guangzhou
You can either extend your trip to other places for other orphanage visit (Optional program), or travel to Guangzhou via the high speed express train (230 miles per hour). It is 2 hours train trip to Changsha from Guangzhou.
Day 13: Thursday Guangzhou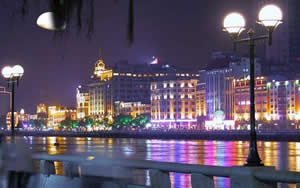 Today you will tour around Shamian Island: stopping at the medical clinic where adoption medical exams are conducted and visiting the photo shop where your child's visa photo was taken. In the afternoon, take another trip down memory lane when you visit the American Consulate. Your guide will then escort you to a local park where you can linger and relax while enjoying a story-time of traditional Chinese folktales to deepen your understanding of the rich cultural heritage of your child.
Day 14: Friday Guangzhou/U.S.
Please meet your private English-speaking tour guide and driver at the hotel lobby and travel to the Guangzhou New Baiyun International Airport for your international flight back to the United States. Cross the International Dateline and arrive home on the same day.
Remarks:
B = Breakfast L = Chinese Lunch D = Chinese Dinner
CA= Air China CZ=China Southern Airline MU=China Eastern Airlines
Valid: Apr 01, 2018 - Mar 31,2019
| | |
| --- | --- |
| City | Hotel |
| Beijing | Beijing Novotel Peace Hotel |
| Xian | Holiday Inn Xi'an Big Goose Pagoda |
| Chengdu | Ane Grand Hotel |
| Changsha | Dolton hotel Changsha |
| Guangzhou | China Hotel |
Inclusions
Beijing/Xian soft sleeper train tickets;
Airfare of Xian/Chengdu/Changsha;
Bullet Train ticket of Changsha/Guangzhou;
Airport/hotel/airport (or train station) transfer as listed on itinerary;
All listed sightseeing and tour programs with private English-speaking tour guide and private van or bus with driver;
Hotels and meals as stipulated on itinerary;
All prices are quoted in US Dollars and are subject to change without notice. Please check at time of booking;
All prices are quoted per person based on two people sharing a room (double occupancy). Single supplement applies for single travelers.
Exclusions
US/Beijing, Guangzhou/US international airfare. Please contact us for discount international airfare starting from your city;
Passport and/or China Visa Fees;
Some meals;
Tips to guides and drivers;
Expenses of a personal nature;
Provincial Civil Affair Bureau orphanage visit filing fee (RMB900.00/per family per orphanage visit in the Hunan Province. The fee has to be paid to the Hunan Provincial Civil Affairs Bureau when you arrive at Changsha.)
The cost of holding the panda and taking a picture is additional to the entry fee. The costs are USD308.00/per person for holding a baby panda. Although the Pandas are cute and adorable, they may inflict accidental injuries in their playful nature.
Optional program
Lotus Travel Terms and Conditions
Note: Customer Commitment - Each Lotus agent is committed to respond to each email with an acknowledgement of receipt within 24 hours. If you do not receive email acknowledgement within 1 business day, please check your spam box for our agents'response e-mail or send your notice to
iris@lotustours.net
or call 1-800-956-8873.